Simply Driving Lessons is based in Shrewsbury, Shropshire and under the guidance of owner Paul Allen, offers high quality driving instruction with fully qualified driving instructors. We provide you, the learner, with the best possible tuition to get you to the necessary driving standards required for your driving license.
Our instructors are highly experienced, friendly and understand the very methods to instruct all different types and abilities of pupils.

Our Shrewsbury Driving Instructors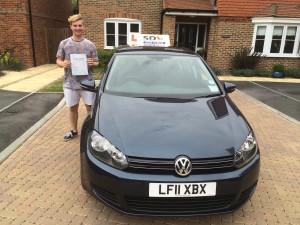 Our driving instructors are trained following the recommended syllabus as set by the Driver & Vehicle Standards Agency (DVSA) and are ready to take learners who have not sat behind the wheel of a car to a confident level, build confidence of those who are a little rusty in the car as well as those experienced drivers looking to progress to the next level of the Pass Plus exam if they so desire.
We have extensive experience and knowledge of giving driving lessons in the Shrewsbury area and this is not just from teaching learner drivers. Over the years, we have also gained vast experience in teaching people to become Driving Instructors themselves and added to this we can teach you any of the Advanced Driving Courses you wish to take. We truly feel that Simply Driving Lessons can offer you the complete all round package in teaching you from the initial passing of your test to taking the next step towards Advanced Driving Skills.
We take the time to make your Shrewsbury driving lesson a thoroughly pleasant and enjoyable experience. Read our driving school testimonials to see what some of our former pupils have to say!
Flexible Shrewsbury Driving Lessons
At Simply Driving Lessons we have fully qualified Driving Instructors' (ADI's) with many years experience in teaching people how to drive safely.
In keeping with the new law there is no-smoking in our cars and they are of course dual controlled, kept clean and always smell nice inside too !!
Your Driving Test
We will also help you with the driving Theory Test and the Hazard Perception Test. Also nearer the time to your driving test we will help you with the Show Me Tell Me questions that you will be asked on your Driving Test day.
When you're near the time for you to apply for your Practical Test at a local Shrewsbury driving test center, we will advise you on the best time to arrange this for, taking into account the local waiting times and your potential for achieving the pass you need.
Also as you near your goal of passing your test we will arrange a Mock Test. This is usually done with us, it will be with your own instructor. Again your instructor will advise you the best way forward so as to achieve the best results.
We pride ourselves on giving the best tuition possible at all times but still keeping to a friendly atmosphere. At all times we treat our pupils with respect and consideration. Nervous pupils are made especially welcome.
Testimonials
Paul was a great teacher. He showed me how not to rush things when driving in a non aggressive way. It took me 6 months to pass on 1 hour lessons a week and I passed first time with only 3 minors. He's a great guy to talk to which is great cause it cools your nerves when you just start to learn. I would recommend him to any one because he teaches a couple of small things that it seems that a couple of my friends didn't get shown when they were learning. Cheers for the help in passing!  –  Edward Smith
Read more glowing testimonials for Simply Driving Lessons on our testimonials page!