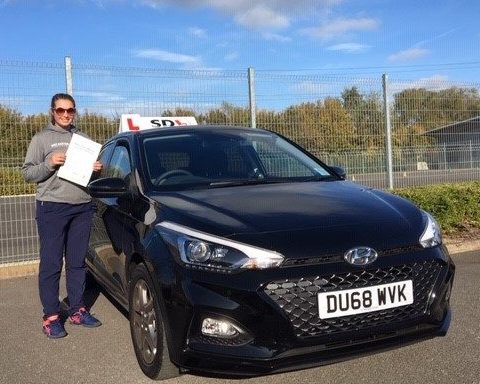 If you're looking for one of the most experienced driving instructors Shrewsbury has to offer, then look no further. I have been teaching for nearly 30 years, instructing different abilities and confidence levels. If you're just starting to drive, hoping to pass quickly with an intensive lesson or need a few refresher driving lessons, I would be delighted to help you pass!
☑ 30 Years Driving Instruction Experience
☑ Flexible Times including Weekends
☑ Patient, Calm & Friendly Tuition


FRIENDLY DRIVING INSTRUCTOR IN SHREWSBURY
I work with learner drivers of all levels, and I am happy to tailor tuition around your experience. I will work with you as an individual to help you become confident behind the wheel, a safe driver and to pass your test quickly – hopefully on your first attempt. My students have an average first-time pass rate of 94%; I am very proud of this and I look forward to adding you to that number.
"I would like to say a big THANK YOU to my instructor, I had absolutely fantastic experience with Paul. He was very patient and helped me overcome my nerves. Also helped me develop a good understanding of driving rather than just teaching me to pass the test. Highly recommend"
Timea ★★★★★
---
INTENSIVE DRIVING COURSE AT COMPETITIVE RATES
We offer intensive driving courses in Shrewsbury for those who want to get on the road quickly. You can choose from a block of 30 or 40 lessons at a greatly discounted rate. The course is designed to develop your skills to help you become a safe and confident driver with all the knowledge required to pass your driving test fast, giving you the freedom you just can't wait for. Get in contact to discuss the course schedule further.
"I decided to take an intensive course because I wanted to pass my driving test as soon as possible. Paul was a brilliant teacher and helped me learn everything in a way that was good for me. I did 10 hours of lessons leading up to a week where I did a 30 hour intensive course. I really enjoyed learning to drive and Paul is really friendly and puts you at ease straight away. I would recommend him to anyone that wanted to learn to drive. I was really happy when I passed my driving test first time, thank you Paul!"
Megan Birdseye ★★★★★
Students Passed

Miles Driven

Lessons Taught



I'd be delighted to answer your questions on an initial free & no obligation call.
Here are some FAQ's to start with
How many lessons do I need to pass my test?
On average, learner drivers tend to require between 40 and 60 hours behind the wheel – a mixture of being with a professional driving instructor and private practice. However, each student is different and will learn at their own pace. I will tailor your lessons to you, ensuring that you become confident behind the wheel and feel ready to take your test as soon as possible.
How long do lessons last?
Standard lessons are either for 1 hour or 1.5 hours, starting from your home, workplace or other agreed pickup place. Many students feel that 1 hour is too short and 2 hours is too long, while the 1.5 hour sessions provide the right balance for the best learning experience. The only requirement before learning to drive with a driving school is to acquire a provisional licence. You can apply online or pick up a form from your local Post Office.
How often should I have lessons?
It is important to have lessons on a regular basis in order to build up your driving skills and confidence while maintaining the skills you are learning. It is best to have lessons at least once a week, and many students prefer to have two or three lessons each week. If you are interested in learning to drive as quickly as possible, we offer intensive driving courses.
What happens if I need to cancel my lesson?
Please note, you will be charged for the lesson if a cancellation is made within 48 hours of the lesson start time, as there is not enough time to fill the space left by your late cancellation.
Do I need to have passed my Theory Test before I start my driving lessons?
No, you don't need to pass before you drive. It's a good thing to do this as you learn so what you read about you can see out on the road while you have your lessons
Are the lessons in a manual or automatic car?
All our vehicles have a manual gearbox, we do not provide automatic driver training.
Driving School Price List
| | |
| --- | --- |
| 1 Hour Lesson | £33.00 |
| 1.5 Hour Lesson | £48.00 |
| Block of 10 Lessons | £330.00 |
Teaching In & Around Shrewsbury
I travel across Shrewsbury teaching students at all levels of abilities. You may frequently see me in the towns below. If you live else where in or near Shrewsbury, please don't hesitate to get in contact with me, I will endeavour to help you…
| | |
| --- | --- |
| – Mount Pleasant | – Battlefield |
| – Abbyforegate | – Harlescott |
| – Castlefields |  – Monkmoor |